In this article, we're going to explain what an interactive voice response (IVR) system is, and why it may be the best addition to your business workflow since email. 
We'll educate you on the different aspects of IVR, the benefits, and even walk you through setting up a simple IVR of your own to get you started.
Get ready for IVR to change your life. 
What is IVR, Exactly? 
What is IVR? An interactive voice response system (IVR)  is an automated phone menu that is capable of directing customers and routing calls. IVRs allow your customers to navigate menus and get the exact right department or person to save time for both sides. In some cases, if what the customer needs can be fully automated (like making a payment), they can forego talking to a human altogether. 
IVR phone technology is getting more advanced by the day, and many companies are using it to great effect. You've probably experienced IVR systems many times in your personal and professional life– they're the first menu you typically get to when calling your cell phone provider or your bank for example. 
IVRs work by presenting audio menus to customers, then giving them various options to choose from. The customer can then use voice commands or press keys on the keypad. The IVR then takes the customer input and uses it to route calls to the proper place. Providing menu items for general information like business hours, location, and other similar frequently asked questions can save your staff from hours of repetitive phone calls. 
Just think of it this way, when a customer calls you, they go to your IVR system first. From there, they can navigate through a series of helpful menus. If absolutely needed, they can always talk to one of your human representatives.
One of the most powerful features of an IVR is that it can recognize the virtual phone number that a person is calling from and can create a dynamic menu based on their intent. For example, if you have an IVR menu specifically set up for billing when customers call your dedicated billing number, they'll conveniently be met with a menu of financial options without having to call your primary phone number.
IVRs can be set up for a virtually endless amount of circumstances and help to optimize your business, allowing you to scale in a way that wouldn't be possible otherwise
What Are the Benefits of IVR?
In addition to what we've already covered, there are countless benefits to IVR that can save your company time, money, and resources– as well as keep your customers happier than ever. 
By having a high-quality IVR system in place, you'll be providing customers with much quicker service. If a caller needs to dial in to check the status of an order, to pay a balance or something else that can be done through a menu, they'll never have to wait on hold. They can call in, and with just a few voice or keypad inputs, be finished. Letting people take care of their own needs through your IVR also cuts down hold times for the people who do need to talk to a representative. 
When customers can choose where they want to be routed themselves, it also cuts down on transfer errors by live operators who are overwhelmed. Additionally, by having a virtual routing system you can often save money by using a smaller, dedicated staff. 
Another major benefit of IVR is that it never sleeps, never needs time off, and never calls out of work. When you have an IVR, your customers can interact with your menus 24 hours a day, seven days a week– even on weekends and holidays.
Improve your profits, productivity, customer service, efficiency, and after-hours interaction: all with the power of IVR.
How Can you Set Up Your Own IVR?
Using our simple, powerful IVR.li software, you can be up and running very quickly with very little technical know-how. Everything is clearly labeled, and easy to understand. To show you just how simple it is, we're going to take you through the step-by-step process of creating your very first IVR (with screenshots). 
Step 1
The first thing you're going to do is purchase your phone number. 

The Area Code will auto-select to be a toll-free number, but you can change it to other area codes.

Now, you'll choose what the number will be used for. Choosing '(Hybrid, Default) SIP Outbound, Webhook Inbound' will allow you to have the call menu forward to outside numbers while still utilizing all of the features of the call menu. 

Finally, once you click 'Purchase' your phone number will be displayed.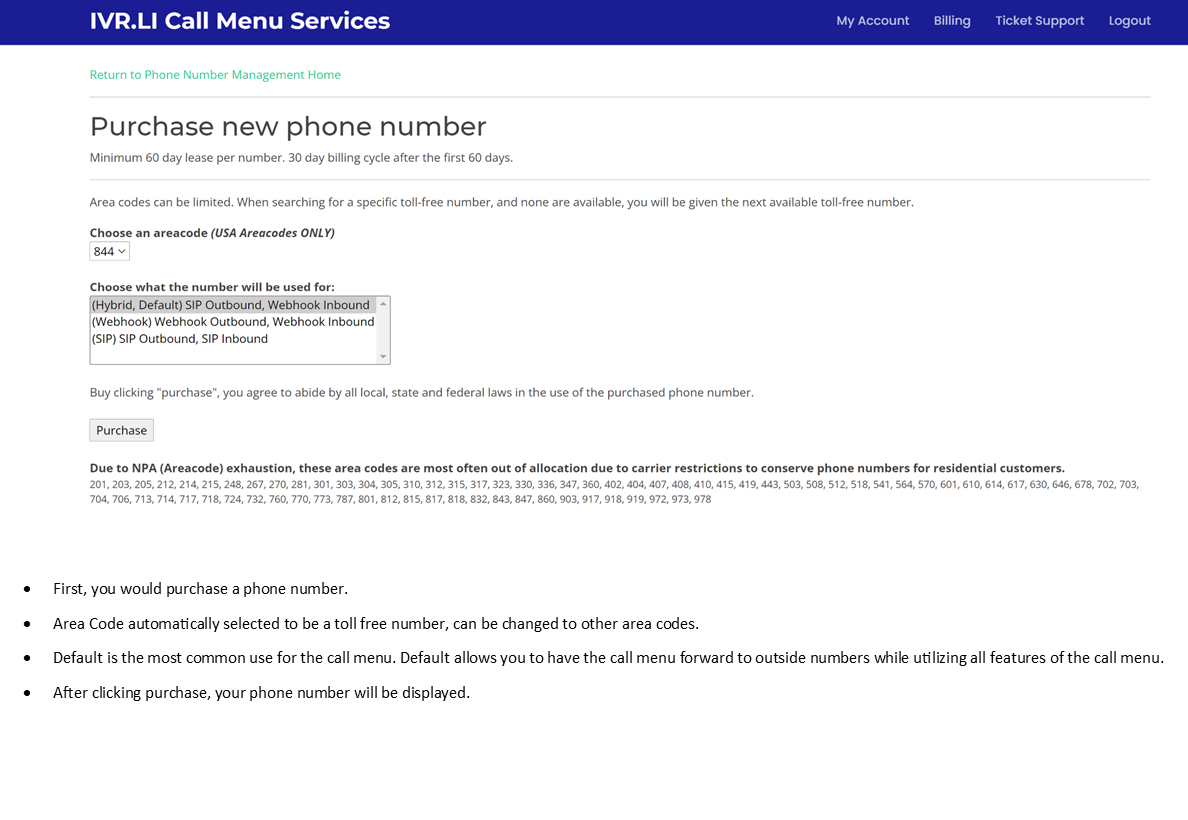 Step 2
Now you'll name your new IVR Call Menu.

In the next box labeled 'Phone Numbers to Assign', you'll place the number (or numbers) you've purchased. Be sure you only place one phone number per line.

Next, you'll place your 'Initial Welcome Message'. This is a recording that will be played or text that will be spoken when someone calls in. (There are some options under this as well that you can select, or leave as is.)

Now choose your 'Call Menu Unsubscribe' voice message. This is what the IVR will say when a caller unsubscribes. (This can also be a recording or text spoken by a bot.)

Next, you can optionally place TextCalibur information (your Base Key and Campaign ID would be needed, but again, this information is all optional and only applicable if you use Text-Calibur). 

Continue to follow the prompts in the rest of the various optional fields (inputs aren't required here). 

Finally, set your 'Single Send Message Exit Message'. This is what the IVR will say when the caller presses an option in the call menu to receive a text message.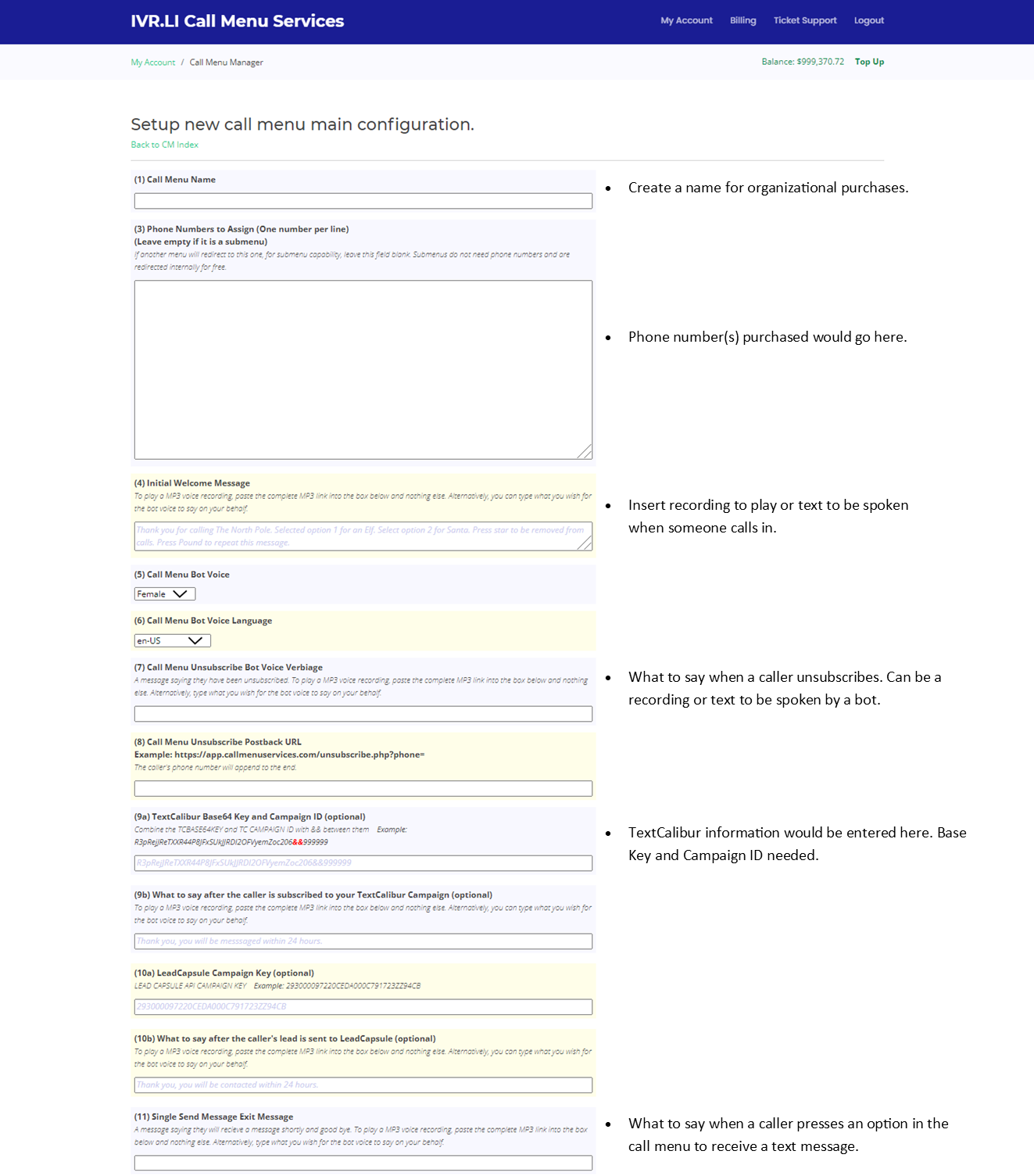 Step 3
In the next section, you can edit your call menu options. 

You can simply and dynamically set up ten different options within the call menu. 

To configure an option, simply, click the corresponding green text. (You can create options such as 'when a customer presses the 1 digit on their keypad, they are forwarded to an external number').

See what editing a menu item looks like in the next step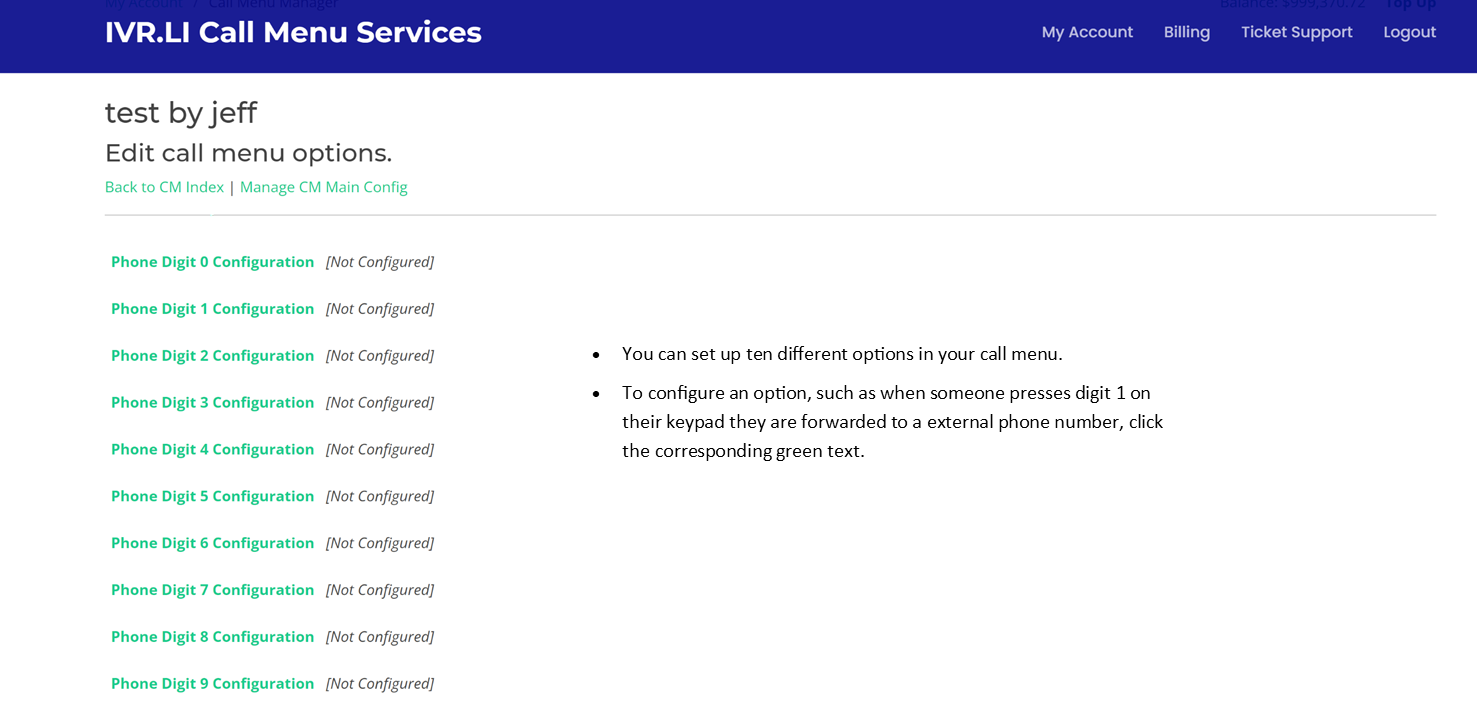 Step 3b
When editing your call menu options, you'll have to select the 'Primary Action Type.' This is essentially choosing what the call menu will do when someone presses a number on their keypad.

The actions available are:

Forward to Call Menu ID

Forward to Phone Number

Play Recording or Text in Field Form

Send Single SMS

Subscribe to Text-Calibur

Send Lead to LeadCapsule

There is a field below the 'Primary Action' selector that changes based on what action you've chosen. Follow the input directions of that field, entering whatever it asks for (depending on the action you've chosen).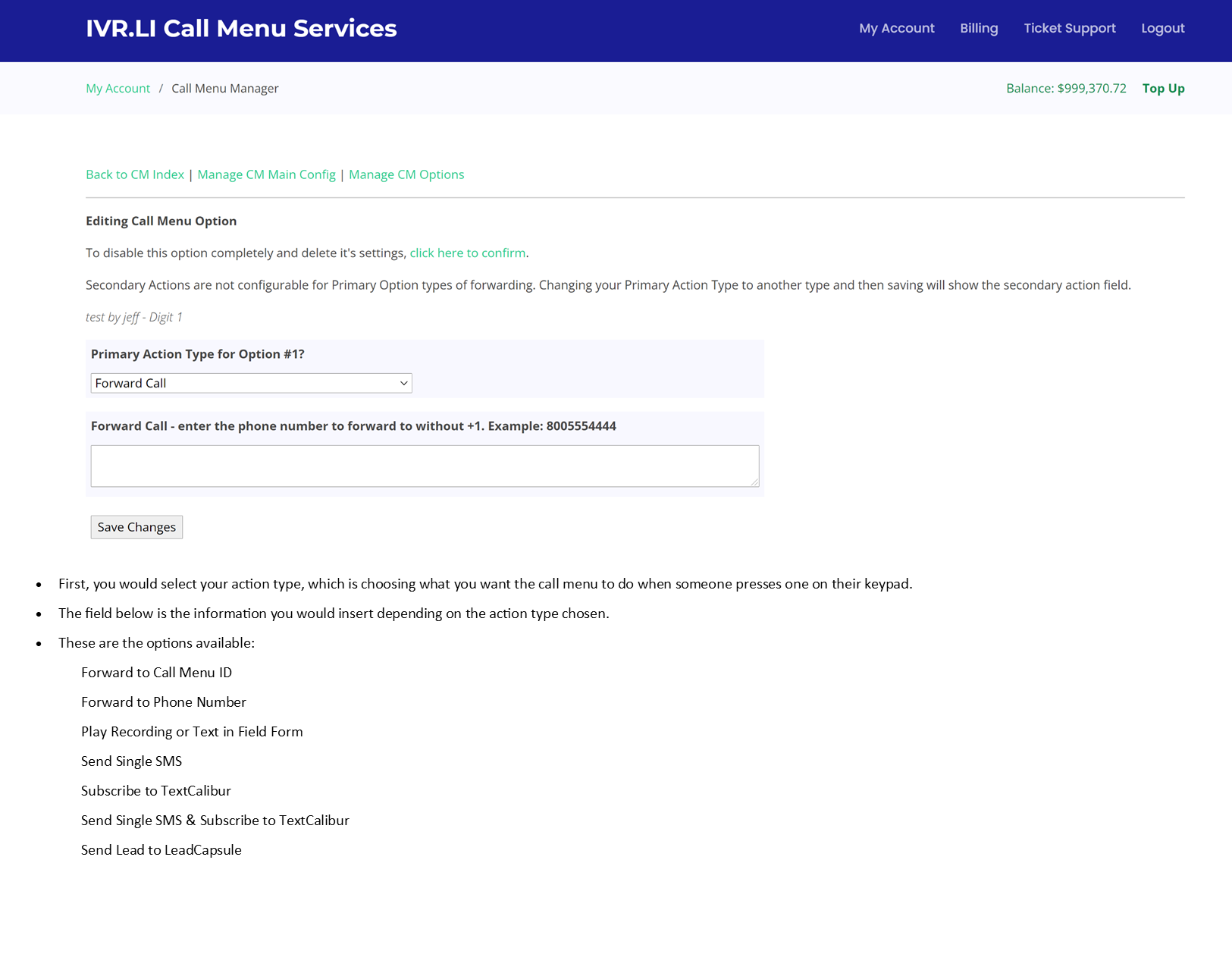 Why IVR.li is the Best IVR Available
IVR.li is the absolute latest in interactive voice response technology and is the most affordable and easy-to-use solution on the market. 
When you use IVR.li, you'll never miss an opportunity for you to reach your customers– or for them to reach you. 
With our robust (but simple) software you can automate your incoming calls 24 hours a day, 7 days a week, 365 days a year. This allows your business to field calls on the weekends, after working hours, and even on holidays. 
Our software features state-of-the-art DID forwarding, allowing you to route incoming phone calls to other existing numbers if needed. Additionally, you can also relay information via text message with our incredible SMS forwarding. This means that customers will receive a text when they press a specific number on their phone's keypad.
An IVR System For Affiliate Marketers 
While IVR.li is a powerful IVR system for any individuals, organizations, and businesses, it was built by affiliate marketers for affiliate marketers. You can run countless offers in tandem with fully customizable options that will give your customers full control. People calling your numbers will let them choose how to be assisted– from text messages to automated payments to live agents and many options in-between. You can also send faxes to as many numbers as you'd like for only 2 cents each. 
Additionally, IVR.li has tools to measure your results so you can tweak and fine-tune your offers, and gives you access to special pay-per-call offers with our affiliate network. 
Try IVR.li Today 
Stop the missed calls, frustrated customers, and lost opportunities today. With IVR.li, you're stepping into the new generation of IVR technology. 
We developed IVR.li because we saw a problem, and there was no solution in place that we would use ourselves. We knew we were missing opportunities to reach our customers– and so are you. IVR.li gives you numerous new ways to organize, monetize, and route your calling traffic like no other tool on the market.
Put our cutting-edge, interactive voice response system to work for you today, and begin to increase your productivity and profits.
Learn more now.